Jet Ski Accident Lawyer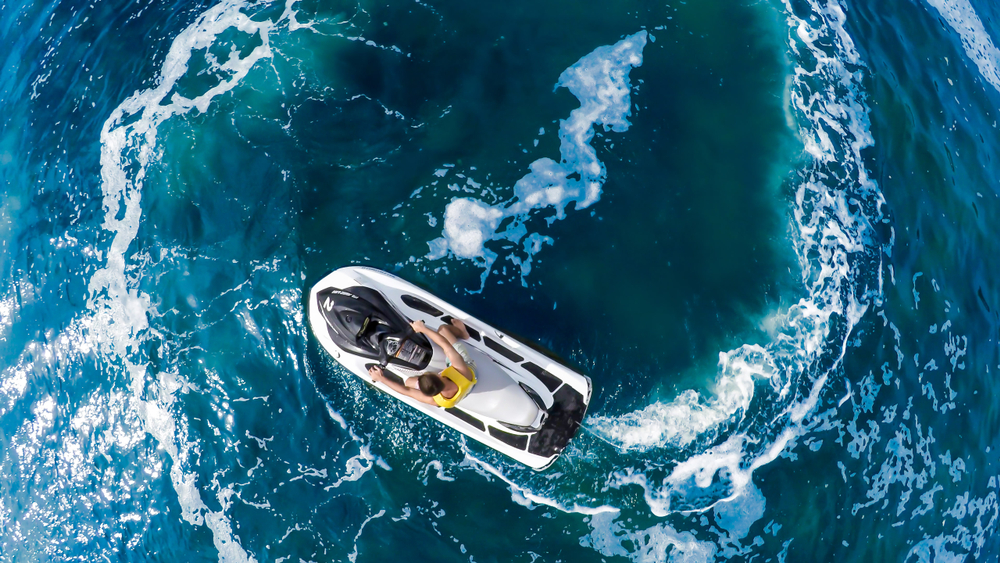 California Jet Ski Injury Attorney Preston Easley Helps Victims of Jet Ski Accidents in San Pedro, San Diego, and throughout CA Collect Maximum Compensation for Their Injuries and Losses
Recreational Water Sport Vehicle, "Thrill Craft" and Maritime Accident Attorneys • Serving all of California including San Diego, Los Angeles, Monterey, Carmel, Malibu, Santa Cruz, Santa Barbara, San Francisco.
Jet Ski Accident Lawyer – Jet skis are to motorboats what motorcycles are to cars: light, powerful, single-occupant vessels that are more maneuverable than traditional boats and capable of blazing speeds. In fact, Jet Ski is the registered trademark of Kawasaki Heavy Industries, but the term is now commonly used to refer to all such vessels, which should properly be called "stand-up personal watercraft." Jet skis have become increasingly popular over the last two decades, and are now a common sight (and often a real nuisance) along the nation's beaches.
Maritime Accident Lawyer Preston Easley is a Graduate of the U. S. Naval Academy in Annapolis, Maryland. You Can Rely on His Expertise in Maritime Law to Protect Your Rights. Contact Him Today For a Free Consultation About Your Case.
The Dangers Of Racing Jet Skis
Because they're mostly used by younger people, sometimes in competitive races, jet ski injuries can be especially serious. According to Ride Technology, 70 percent of all jet ski accidents involve collisions with other watercraft, and 70 percent of these collisions are with other jet skis. Ride Technology also maintains that jet skis account for more than one-third of all boating accidents in the U.S., even though they account for only seven percent of registered vessels. Bear in mind that these statistics date from a decade ago; with the explosion of jet ski popularity, the situation today is likely to be even worse.
As a rule, innocent third parties are less likely to be injured, or killed, in jet ski accidents than are the operators of these vessels (or of competing vessels involved in jet-ski races.) But just as the injuries sustained in motorcycle accidents tend to be more lethal and gruesome than those sustained in car accidents, the crash of a high-speed jet ski tends to have more serious repercussions for its operator than for, say, for the pilot of a small sailboat. Lacerations, internal injuries, concussions and even amputations are not unheard of on the jet-ski circuit.
No License Required To Operate Personal Watercraft
As with motorboats, California law does not require the operators of jet skis to acquire licenses or boating insurance, but (in response to popular demand) these states have passed additional regulations concerning the operation of personal watercraft. California requires jet ski drivers to wear life jackets, as well as a "lanyard cutoff switch" that turns off the jet ski if its operator falls out of the boat; the state also prohibits jet-ski use at night and while intoxicated, as well as stunts like using a jet ski to jump over another vessel's wake. Otherwise, though, California still allows jet skis to be operated by children as young as 12, provided they're under direct adult supervision — an adult is a person 18 years or older.
California PWC And Jet Ski Accident Attorneys • Free Consultation
If you have been injured, or if your property has been damaged, by a person improperly or recklessly operating a jet ski or other personal watercraft, you may have grounds to sue the driver or owner of the boat for damages—and if the personal watercraft (PWC) was operated by an unsupervised minor, you may be able to sue their parents as well. If the operator of the PWC was inebriated, you can potentially collect damages from the bar, restaurant or liquor store that sold the alcohol. On a slightly different tack, if you have been injured while operating your PWC, it may be possible to hold the boat's manufacturer liable for known defects, or to collect damages from other boat operators who contributed to the accident. It will be necessary, however, to demonstrate that you were not driving your jet ski recklessly or negligently, which is why you need the advice of an experienced maritime lawyer.
For a free initial consultation, call or email our law firm today.